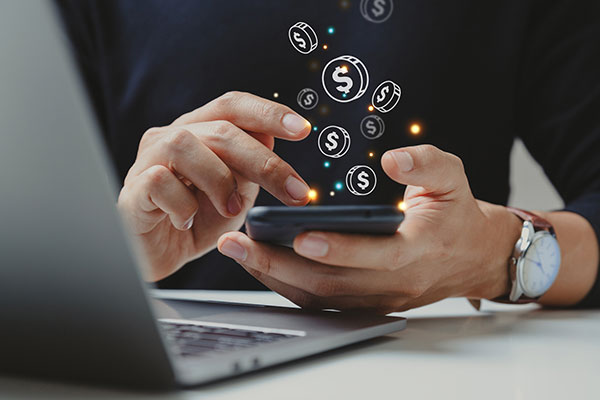 Peer-to-Peer (P2P) App Scams
How to Avoid Peer-to-Peer (P2P) App Scams
Where there's a transfer of money, there's unfortunately often a scammer waiting to commit fraud. Safety and security are always top of mind when it comes to money transferring apps and technologies, but fraudsters are still finding workarounds.
This can be especially risky when it comes to direct payments from one person to another. So, how safe are peer-to-peer (P2P) payment applications and how can we avoid being scammed? Let the team at Farmers State Bank explain the ins and outs so you can safely transfer your money between friends, family or online merchants.
What Are P2P Applications, Anyway?

Peer-to-peer payment applications have increased in popularity over the years.
Common money transfer apps include Zelle, Venmo, Cash App and PayPal, to name a few. There are even ways to transfer funds through messaging platforms such as Apple iMessage and Google. The digital exchange of money is accessible to all, which could lead to an increasing number of scam opportunities as well.
What's important to consider is that peer-to-peer transactions may not offer the same type of financial protection as transactions with a business or financial institution. This is because payments made through a P2P app are payments YOU authorized. It's imperative to only use peer-to-peer payment methods with friends and family who you trust, or sellers who you've vetted and determined to be reliable.
Although it's beneficial to know the safety precautions to take when using P2P applications, there are a number of positives to keep in mind as well. Peer-to-peer applications can allow you to instantly transfer money from one bank account to another, often with no fees. There are a variety of common uses for P2P apps, such as splitting a bill, paying for concert tickets or sending next month's rent money to your landlord or roommate. They can also be used to make purchases with merchants online or locally at craft fairs.
Avoiding Common P2P Scams

One of the most common ways to fall victim to a peer-to-peer scam is purchasing an item from a person online. Online marketplaces, such as Facebook Marketplace or eBay, are often a hotspot for P2P app scams. Fortunately, there are ways to protect yourself and your money.
Review the marketplace's community standards to ensure you have a good understanding of the commerce policy. This can help you catch scammers who try to list fake or prohibited items, then pocket your money without ever completing the transaction.
Another way to avoid marketplace scams is to do a little bit of detective work on a seller's profile. Whether it's eBay, Venmo or PayPal, there are always ways to determine the legitimacy of a person by exploring their history of interactions with other users. A clear indication that their profile is fake is little to no activity on the profile, or the profile was just made within the last month.
One benefit of an online market such as Facebook Marketplace is the ability to see whether the seller is an actual, active user rather than a fake profile. By searching for previously existing posts and photos on that person's profile, you can often determine whether the user is a real person or a scammer who created a fake profile. While this can be a good indicator of a seller's legitimacy, it's not a foolproof solution—some people have their privacy settings locked down to prevent personal information from displaying publicly.

Protecting Yourself from P2P App Scams

But how do you protect yourself from real people who are trying to scam you? When communicating with a seller, proceed with caution. Don't hand out any personal information, such as your bank account or credit card number. It's safer to use a P2P app such as PayPal in this scenario, to keep a record of any transactions made between the two of you. PayPal offers buyer and seller protections and support to help you retrieve lost money in the event of a scam when sending money using the Goods & Services setting, rather than the Friends & Family setting.
If you do become a victim of fraud using a P2P app, be sure to reach out to the app's support center for help. They will be able to track the transactions and credit money back to you in a timely manner.
It is always beneficial to check the privacy settings of each individual application as well. By turning two-factor authentication on and setting a complicated password, your account will be at a lower risk of being infiltrated by a hacker looking to directly steal funds from your connected cards or bank accounts.
Peer-to-peer applications make daily money exchange so convenient and can be a safe and secure way to transfer money between friends and family, as well as people that you trust. But as with any technology that can access your banking information, hackers and scammers pose a threat. Be mindful of your transactions and stay on top of your monthly billing statements to identify any fraudulent transfers or withdrawals. And if you ever notice activity you didn't authorize, reach out to
Customer Support Center
as soon as possible.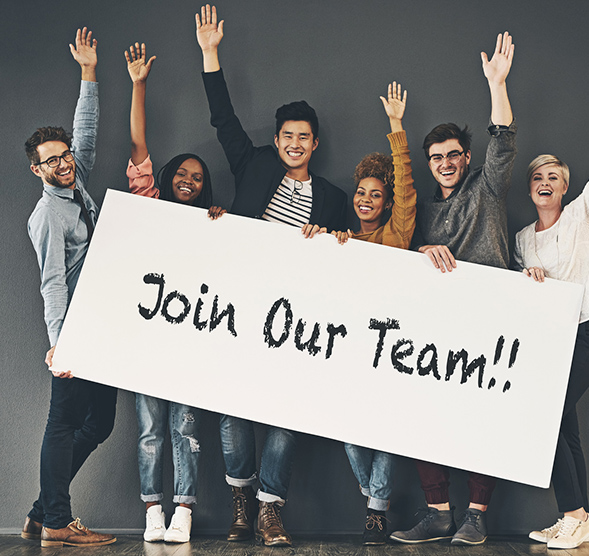 Join Our Team
Find the place you can grow. Not just work.

We're always looking for people who are passionate about serving their community to join our team.